Im Folgenden noch'n paar ältere musikjournalistische Arbeiten von 2003 bis 2013 – News, Tourtipps, Album-Besprechungen, Konzertberichte. Wir schreiben das Jahr 2004 – und da waren ein paar tolle Festivals und Gigs dabei…
RealNetworks wird neuer Player im Online-Musikdownload-Geschäft
Universal Music "1AM" – Crossmarketing live im fusionierten Musikmarkt
Dream Theater mit "Train Of Thought" auf Tour
KONZERTBERICHT Dream Theater, 27.01.04, Köln, Palladium – Gut gekühlt
Nokia: "Hip Brand" für Jugendliche – eigenes Musiklabel?
Konzerte in Köln: Blues statt Alaaf? (Neue Vergnügungssteuer)
(aber vgl. wie es weiterging)
Download-Dienste – der Nächste bitte: Sony
Starautogramme aus der Kölner Live Music Hall ersteigern und Kindern helfen
"Flying Kiwi" Mike Brosnan am Sonntag in der Bonner ZONE
Gluecifer: Thrillautomatik mit neuem Album und Tour
"Stromgitarren" – Ausstellung zum wichtigsten Handwerkzeug der Rockmusik
Doppelspitze des deutschen Melodic Rock, Teil 1: Axxis (INTERVIEW m. Harry Oellers)
Doppelspitze des deutschen Melodic Rock, Teil 2: Pink Cream 69 (INTERVIEW m. Dr. David Readman)
KONZERTBERICHT Axxis, Pink Cream 69, 14.03.2004, Bochum, Matrix – Schicht im Schacht
They never come back? In Wacken they do! (Warlock Reunion)
Iced Earth: mit "Glorious Burden" auf Europa-Tour
(aber vgl.)
Das Live-Tagebuch zum Hören: Armageddon Over Wacken
Within Temptation: Engelsstimmen und güld'ne Harfen
Monster Magnet: Magnetisch, Baby!
KONZERTBERICHT Arch Enemy: (Erz)feindseliges Package in Köln, 17.02.04, Köln, Live Music Hall
(Full review here)
T-Musik: musicload.de nimmt Fahrt auf
The Vision Bleak: "Horror"-Musik auf großer Klaviatur
Ian Parker: Sideman der größten Blueser
Axel Rudi Pell: von wegen dunkles Mittelalter ("Kings And Queens)
Fury In The 360-Degree-Rotation-Slaughterhouse ("Nimby")
Gehört dem Handyknochen die Zukunft des Musikmarkts? (A.T. Kearney-Studie)
Musicload.de wird auf Phonoline aufsetzen
"Sure Shot-Woche": Eine Woche voll das harte Brett in Hamburg
Da capo: Mobilmusik von T-Mobile
Ganzes Antimatter-Album For Free
KONZERTBERICHT Friend 'N Fellow, 14.04.2004, Köln, Stadtgarten, "Fly Like An Eagle"
STUDIOREPORT Perzonal War im Mai 2004 – The Face of Rock'n Roll
KONZERTBERICHT Bob Geldof and The Bob Katz, Waterboys, The Hooters, 06.06.2004, Bonn, Museumsplatz – "Summer Storm" für Arrivierte
Das Progrock-Line-up des Jahres (Arrow Rock)
The Amber Light: heute Progpflichttermin vor dem Dampfradio
#Rezension Steve Vai – Live At The Astoria London (Doppel-DVD) – Au VAIa!
Konzert-Tip The Musical Box
(vgl. KONZERTBERICHT)
Reunion von Black Sabbath steht fest
Sony und O2 kooperieren in Sachen Mobile Music
Atemübungen mit Mindwise auf dem Weg nach oben
Creed brechen das Evangelisationszelt ab
1. Wacken Metal Battle: Metal-Nachwuchs macht sich nass
AOL kooperiert mit iTunes in Europa
"Mad Professor" vervollständigt Line-up des ProgPower Europe
Mixed Tape von Mercedes-Benz: der gute Stern im Musikkanal?
Have four Cokes, then have a Download
Mordsstimmung bei Motörhead: "Infernö" heute in der Läden
Electric Lizard: Monster Soul aus Berlin
Konzert-Tip Perzonal War (Präsentation)
Dissection: die Blackmetal-Könige sezieren wieder
#Review: Brian Setzer Orchestra – The Ultimate Collection
WackeLn im Sturm! Wacken Open Air 2003 – "Sponsored by Nobody"?
KONZERTBERICHT 10 Fold B-
Low, Perzonal War, Blaze, Circle II Circle, Rose Tattoo, Saxon, 03.07.2004, JUZ Andernach Open Air
Der Regen wird wärmer: W:O:A Warm Up Parties
Review Neal Morse – Testimony Live
Review Metal Church – The Weight Of The World
W:O:A-Live-Streaming: Metal "Pay-TV" der Superlative
BluNoise Mailorder: neuer Labelsampler im Webshop
Dimmu Borgir: (Presse)freiheit ist immer auch die Freiheit der anderen: Im Verlauf eines Live-Radiointerviews für die Station WMMS-FM in Cleveland wurden die norwegischen Vorzeige-Black-Metaller nach einer unliebsamen Antwort abgewürgt und aus dem Gebäude
eskortiert…
Bryan Adams: Product Bundling aus Konzertticket und Single
Festival-Tip! Höhlenmenschen, vereinigt euch: Höhlenrock-Festival in Balve
#Review: Magnums neue Übergröße Brand New Morning
Festival-Tip! Nebelmond Metalparty, die 6. | ARCTURUS erstmals in Deutschland
Festival-Tip: Gnadenlos – Klappe, die zweite!
Neue Medienformate am Horizont (DualDisc)- Ärger mit bestehenden (kopiergeschützte Audio-CDs)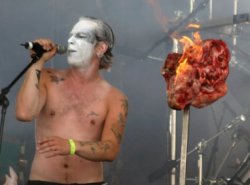 FESTIVALBERICHT 15. Wacken Open Air, Wacken, Festivalgelände auf der Wiese, 1.Tag: 05.08.04 – "Die bucklige Verwandtschaft"
W:O:A '04, 2. Tag: 06.08.04 – "Knobibrot, Blut und Spiele"
W:O:A '04, 3. Tag: 07.08.04 – Drink A Lot!"
Legale Metal-Downloads von Nuclear Blast
#Review Alan Parsons – A Valid Path
Finest Noise Mailorder: neuer Labelsampler im Webshop
#Review Cowboys On Dope – High Noon
Schloss Beck präsentiert: U.J. Roth meets Renaissance-Fiedler
Van Halen: DVD "Live Without A Net" in den Läden
#Review Glenn Hughes: Soulfully Live In The City Of Angels
Saga mit "Network" und Deutschlandtour
Saxon mit Löwenmut – "Lionheart" in den Läden
Review Dry Kill Logic – The Dead & Dreaming
A Colour Cold Blacks neuer Klimmzug: Pull It up
Shiga Wire – Neues Starkstromkabel erhältlich
Europe – 23 Shows, 23 limitierte Singles zu gewinnen (+ Mob Rules)
KONZERTBERICHT VEAGAZ, Illusion Island, 05.03.04, Bonn, Kult 41 – "Viva Las Veagaz!"
#Review Freezeebee: Rockmachine
Rage: Seit 20 Jahren in Rage – und auf der Bühne (From The Cradle To The Stage)
Willie Nelsons Superstar-Treck auf DVD
KONZERTBERICHT Alias Eye, Saga / 21.11.2004, Bonn, Brückenforum; inkl. KURZINTERVIEW m. Philip Griffiths
FESTIVALBERICHT ProgPower Europe 2004 Festival / Baarlo, Niederlande, Sjiwa, 1.Tag: 02.10.04, "Adagio Con Amore" (The Dust Connection, All Too Human, Platitude, S.O.T.E., Adagio)
PPE '04, 2.Tag: 03.10.04, "A Family Gathering" (Into Eternity, Novact, Tomorrow's Eve, In Tension, Riverside, Katatonia, The Gathering)
KONZERTBERICHT MINDWISE, Bulletproof / 21.10.2004, Bonn, Klangstation, "Why start touring?"
MØrkeskye: Magazinkunst für Trollgroll und Heidenlärm