»If there is a god, don't need no devil«
1. Concerts/Gigs/Festivals

Das sind normalerweise die (mir) wichtigsten Top 10. In diesem Spezialjahr hat es grad mal für Top 5 gereicht, die allerdings um so kostbarere Erinnerungen liefern:

Kristoffer Gildenlöw, solo, akustisch, 04.07.20, Breda (NL), Café Bel Air
Catapulco, 29.05.20, Köln, Hopla (Livestream)
smalltape, Emerald Edge 01.02. Haan, Rockin' Rooster
2. Albums

Beste Einzelsongs:


Chaosbay – Amen
Tomorrow's Eve – Imago
Markus Reuter – Swoonage

Vgl. auch die Jahres-Charts 2020 aller teilnehmenden Betreuer und vgl. auch diese Betreute Spotify-Playlist zu den Highlights Jahres!

Ferner liefen großartig, mit 13/15-Wertungen oder knapp drunter: Magnum (Echt jetzt? Echt jetzt), Thoughts Factory, Virgil Donati, Higgsino, Toundra, Pure Reason Revolution, Elephant Tree, Sophie Tassignon, J.G. Thirlwell & Simon Steensland, Superthousand, Conception, Hats Off Gentlemen It's Adequate, Cryptex, … and Oceans, Juice Oh Yeah, Dim Gray, GRIOT, Mora Prokaza, Pixie Ninja, Bladed, Green Carnation, Melanie Mau & Martin Schnella, Turtle Skull, Automatism, The Pineapple Thief ("Versions of the Truth" – vor allem die Remix-CD!), Toehider, Ayreon, Devin Townsend, Ring Van Möbius, Wobbler, Enigma Experience, Big Big Train, …

Beste Live-Aufnahme:
Dirty Sound Magnet – Live Alert

Beste "Neu"-Entdeckung: Devil Doll!



3. Books
(Jahres-Top-Ten. Aber nicht notwendigerweise 2019 erschienen!)

Ray Bradbury – The Illustrated Man (1951; xte Wdh.)
Bill Bryson Frühstück mit Känguruhs (2000)
Harry Rowohlt – Und tschüss – Nicht weggeschmissene Briefe III (2016)
Steve "S.J." Watson – Before I Go To Sleep (2011)
Cornelia Read – Schneeweißchen und Rotentot (2006/2008)
Dörte Hansen – Mittagsstunde (2018)
Tony Hawks – Matchball in Moldawien (2000/2001)
Ulrike Purschke – Hendrikje, vorübergehend erschossen (2006)
Hagen Bretschneider – Bitter Moon Poetry (2016; faszinierend, aber auch praktisch unerträglich)
Robert Harris – Angst (2011)
Schlimmstes Buch:
John Grisham – Bestechung (2016/2017)



4. Flicks

Es war natürlich auch für Kino kein so richtig optimales Jahr…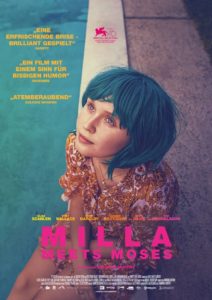 Shannon Murphy – Milla Meets Moses / Babyteeth
Daniel von Rüdiger – 972 Breakdowns – Auf dem Landweg nach New
Jeremy Workman – New York – The World before your feet
Paul Hegemann – Das Arvo Pärt Gefühl
Hermine Huntgeburth – Lindenberg!
Destin Daniel Cretton – Just Mercy
Adele Schmidt und José Zegarra Holder – Krautrock 1
?
?
?

Schlimmster Film:
Pablo Larrain – EMA

---
Flashback – "CHARTS" DER VORJAHRE:
2004
2005
2006
2007
2008
2009
2010
2011
2012
2013
2014
2015
2016
2017
2018
2019